Progressive decrease in pesticide use: target of 50% by 2030
The use of chemical pesticides in the European Union (EU) is steadily and continuously declining, although not at a fast enough pace, and more action needs to be taken and actions taken to reduce the use and risk involved.
It is observed that with respect to the reference period taken between 2015 and 2017, there has been a reduction in use and risk of 14%, this percentage being significantly higher when we talk about those pesticides considered more dangerous (26% reduction).
Likewise, the adoption of biological and low-risk alternatives to chemical pesticides "is still very low" despite the updating of regulations and funding of projects that have been carried out by the EU to help increase the availability of these.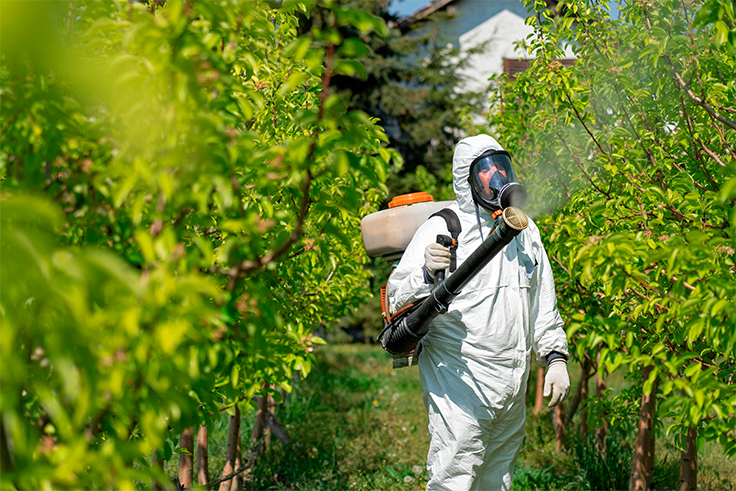 Everyone knows that chemical pesticides cause:
– soil, water and air pollution.
– loss of biodiversity (reduction of pollinators).
– a negative impact on human health (with dermatological, gastrointestinal, neurological, carcinogenic, respiratory, reproductive and endocrine effects).
– a negative impact on the environment (alarming decline with more than 80% of habitats in poor condition, mainly wetlands, peatlands, grasslands and dune habitats).
With the objective clearly set within the «From Farm to Fork» Strategy, the EU has set a halving of the use of chemical pesticides by 2030.
The rules of the current directive have proved to be too weak and have been applied unevenly and that is why a new regulation will be drafted in a regulation that will be legally binding in all countries. In this sense and facing 2030:
– "Member States should set their own reduction targets within clearly defined parameters, as well as their own strategies to ensure that the EU-wide target is achieved collectively."
– A new comprehensive enforcement framework will be established to "ensure that all farmers consider alternative methods of pest control (such as crop rotation and technologies such as precision agriculture) first, and that chemical pesticides are used as a last resort."
– It proposes "the prohibition of all use of pesticides in sensitive areas such as public parks or gardens, play areas, recreational or sports grounds, public roads, as well as ecologically sensitive areas".
– Farmers will be supported by the EU's Common Agricultural Policy (CAP) in this transition: "for 5 years, Member States can use the CAP to cover the costs of the new requirements for farmers".
All of these rules align with Europe's commitment to halt biodiversity loss, protect health, help build sustainable food systems and ensure lasting food security.