Spain leads the world ranking by area of vineyard of organic production
The Ministry of Agriculture, Fisheries and Food (MAPA) has published a study analyzing the organic agriculture sector in Spain. The report highlights that this agricultural model is in the process of growing driven by a food sector that is increasingly in demand for this type of product.
The study highlights that Spain leads the world ranking by area of vineyards of organic production, with 26.88%, being one of the crops with the greatest implementation in terms of ecological area in Spain. In this sense, we also occupy the second and third world position of organic citrus and olive grove surface.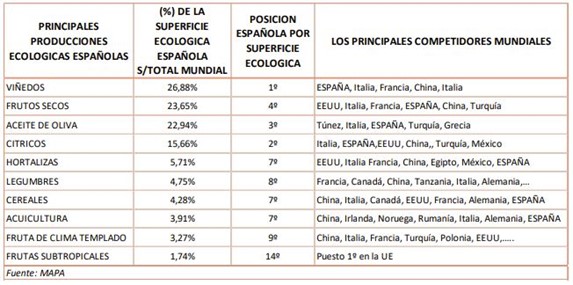 In particular, the organic vineyard represents 5.15% of the total area of organic production in Spain in 2019, with 121,290 hectares, representing a growth of 6.94% compared to the previous year, the largest increase behind only the fruit. For example, the number of hectares dedicated to organic viticulture in Utiel-Requena has grown by 47% in 2016 (with 6,899 hectares) to 2020 (with 10,183 hectares) according to the Ministry of Agriculture, Fisheries and Food.
In terms of production, the grapes (mainly for wine, and to a lesser extent as table grapes) represent the third largest organic vegetable production in Spain, with 444,380 tonnes.
However, in terms of consumption, wines account for only 1.5% of the total Spanish organic basket, making it the product least demanded by consumers of "the ecological". Instead, it has maintained an important strategic or leading position in world markets, along with olive oil and citrus. More and more wineries are producing organic wine and "more demand" in foreign markets such as Sweden, Germany, Switzerland, Denmark, Japan, the United States and Canada.
Wines were the fourth most exported category in 2019, with a share of 5.5% of sales abroad of Spanish organic products, valued at EUR 995 million.
One of the causes of Spain's leadership in the production of organic wines worldwide is meteorology. Our country has a dry climate on much of its surface and in most years, which reduces exposure to pests and diseases, which implies a lower need to apply intensive treatments to avoid losses. In addition, organic production contributes to environmental protection and rural development, Appellations of Origin vertebrate their territories and set populations.
Of the 1,152 operators of organic wines that exist in Spain, most are concentrated in Castilla-La Mancha, Catalonia, Valencian Community and Murcia.
In order for a winery to achieve ecological certification, a certificate has to confirm that herbicides, or other systemic products, are not used in the winery and that the vineyard is free of waste, in a certification process that covers all stages of production.